Colorful gemstones, classic styles, and on-trend metallic designs
Imprinted by Leo and Lynn Jewelry
design a custom piece of hand stamped jewelry
casual comfort. a bit of sparkle. always you.
Handmade Jewelry for Your Every Day
We believe in the magic of every day. Our hand poured resin and hand stamped metal jewelry is designed for your casual style, comfort, and to celebrate your magic. We always use nickel free metals because you deserve high quality casual jewelry. We want you to love your Leo and Lynn jewelry, because we loved making it.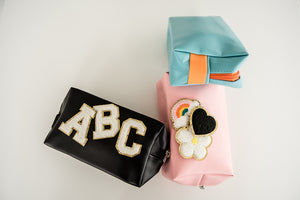 ready for sunshine
Summer Essentials
Grab a waterproof cosmetic bag and trendy personalized patch
shop bags
celebrate your story
imprinted by leo and lynn
Imprinted is a brand new concept for Leo and Lynn Jewelry. Inspired by our love of stories and people. Each piece of jewelry is designed and made to celebrate you - your journey, your relationships, your triumphs, your loved ones.
The stories and people forever imprinted on your heart. And now hand stamped on a beautiful piece of jewelry.
the why behind Imprinted hand stamped jewelry
Select a chain
Choose from gold filled or sterling silver dainty cable chain in 18, 20, or 24 inch lengths.
start designing
Pick your Pendants
Pick from 6 pendant shapes - keep it simple or create a stack!
My perfect necklace
Personalize it!
Design the words, text, or numbers you want hand stamped on your pendants.
Honor my story
What our customers are saying...
I love Summer's jewelry-- it's simple enough to wear as part of my everyday wardrobe, yet definitely lends an elegant feel. It makes me smile every time I put it on! Summer creates such quality products that shine day after day.

E. B.
They are so comfortable. I can wear these earrings all day and completely forget that they are even in. Added to the fact that they are beautiful and unique.

A. S.
The earrings are fun AND pretty, and I love knowing the story of the namesake. I feel like I discovered a little treasure for gifts for the women in my life!

K. L.
I love everything about every one of my Leo and Lynn pieces! They're so simple yet elegant, dress up or down! Truly an every-day jewelry.

J. S.
So cute and shiny! I love supporting small businesses as much as I can, especially ones that put so much work into little masterpieces like these!

S. I.
Every single thing I have purchased from Summer has been stunning! The jewelry from Leo & Lynn is perfect to wear every day and a great quality (like her mission states!) The orders are packed beautifully and sent out quickly. My favorite so far out of the three sets of earrings are a toss up between the Summer Earring and the Emerson Stud. I'd highly recommend!

A. R.
hey friends!
I'm so glad you're here
This is the place for handmade, high quality, everyday jewelry. Don't settle for casual jewelry that turns your ears green, is too heavy, or you spend all day adjusting. Your jewelry should work as hard as you do. Every piece of my jewelry is designed for to make you feel like your best self - every day.
Our Story
What our customers are loving
free repairs
Sh*t happens - kids yank our necklaces, we lose an earring, we run an earring over with a car (yes a customer actually did that!)... so we are with you for the life of your jewelry. If something happens to your jewelry, reach out to us so we can fix it, replace it, or find a resolution that gets you back in your favorite jewelry.
read our policies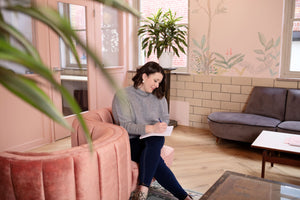 Save on your new jewelry
Love, leo and lynn
Earn Jewelry Points with our rewards and referral program
Click the Rewards button to the right to create your account.
Shop and Earn Rewards!